The culture of Croatia has roots in a long history. Even though the people have lived in the area for fourteen centuries, important remains of the earlier periods are still preserved in the country. The diversity of this country is exceptional and is influenced by the Balkans, the Mediterranean, Central Europe, as well as the Orient and also due to its ecological conditions.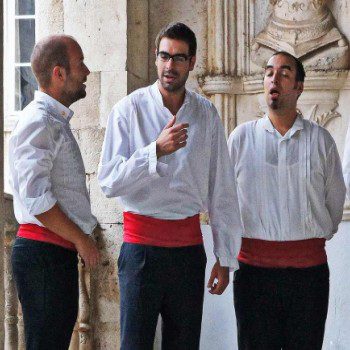 Klapa Singing
In 2012, Klapa was listed in UNESCO Intangible Cultural Heritage of Humanity list. The term refers to groups that sing a specific repository of Dalmatian Klapa songs. The term klapa means "a group of friends (4-10 male singers). The highest voice – I. tenor, is the leader of the singing group. Several II. baritoni, tenori and basi voices follow the leader. Multipart singing, a capella homophonic singing, oral tradition and making simple music are the main features of authentic klapa singing. Another important component of the klapa is the ability to sing freely. It is sung without any notation of tunes and their harmonization. The main aim of the singers is to achieve the best possible mix of voices. Topics of klapa songs usually deal the surroundings where they live, love and known life situations. But love is the primary theme.
Plan my Croatia Vacation Now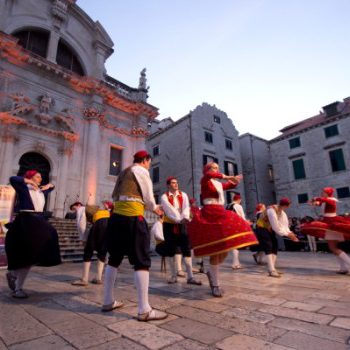 NijemoKolo
NijemoKolo (silent circle dance of the Dalmatian hinterland) is a dance performed exclusively without music. It is performed in an enclosed circle, with the men leading female partners (1 or 2) in dance, to be clearly seen by everyone, and then jumping alternately from one leg to another, simultaneously taking his female partners along, publicly testing the skill of his partner, without any set rules. Depending on his mood and desire, he joins the other dancers in a circle, into the Kolo with long strides. 
The dance is performed spontaneously at carnivals, fairs, feast days and at weddings. Nowadays, village groups perform dance at local, regional as well as international folklore festivals and at local shows, carnivals or on the holy days of their parish church. These dance skills are passed on from the older to the younger generation mainly through cultural clubs.
Plan my Croatia Vacation Now